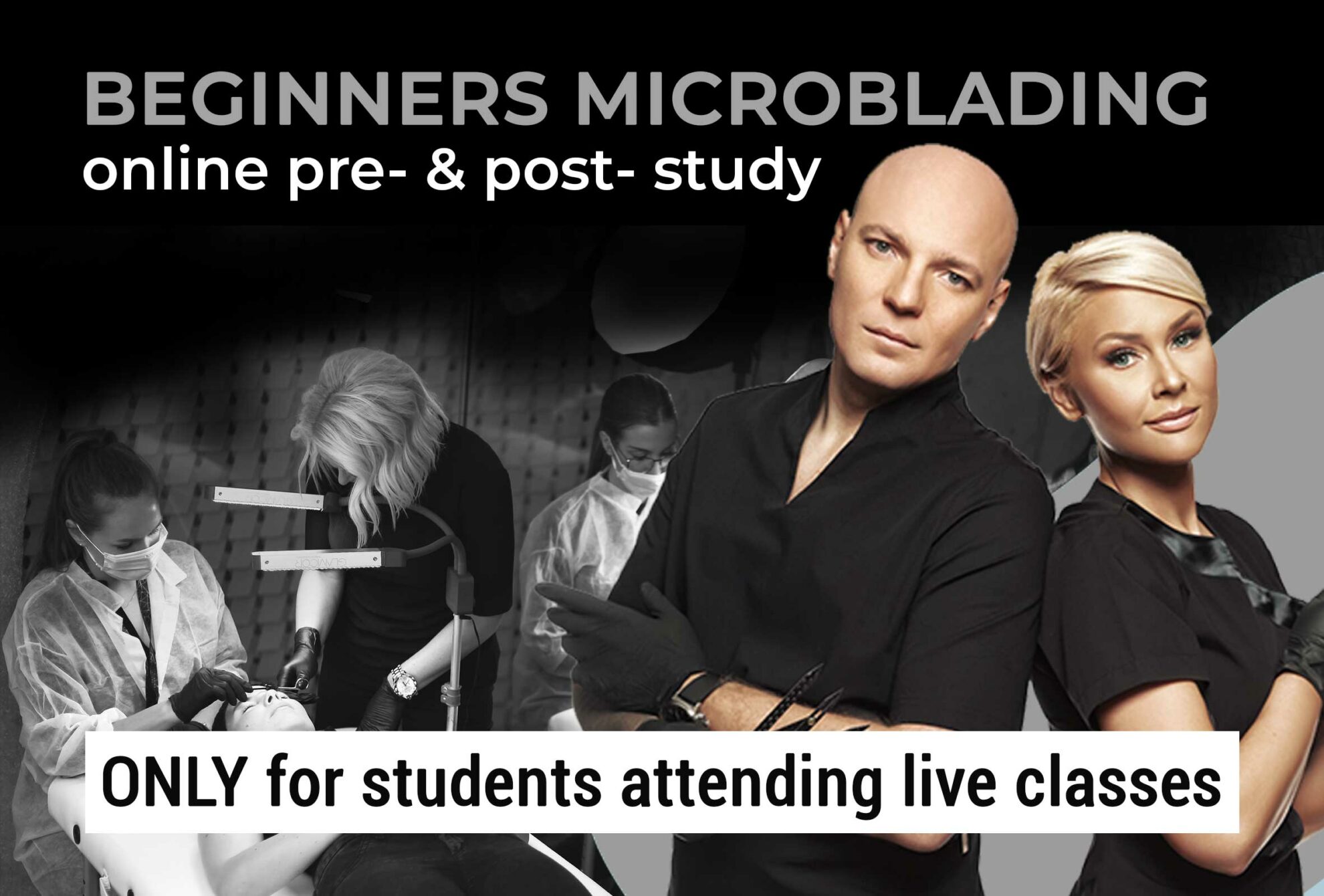 Instructors
Microblading Beginners Course
Microblading Beginners Course
Elite microblading online course is intended for all who wish to get started with their microblading career or to experienced microblading practitioners who wish to further their knowledge.
This course is intended only for students who visit our live course.
How to do the course?
Select payment method & pay the course in full
Log in and start the pre-course.
Finish the pre-study course and pass the final theory test
Attend the live course, where you receive a certificate of attendance
AFTER the finished live course start the practical part on our online platform. Our trainer will guide you through each step.
Do all the assignments. Assignments are checked during business days only and it may take 48 hours to receive feedback from our trainer.
After finishing the assignments, you receive a final certificate
As soon as you pay for the course you receive an email with all needed information to log in and start the pre-course.
Pre course has all the theory you must study before the live course and includes:
Theory topics: About different types of blades, Risk of infection, Disinfection and sterilisation, Preparation of the working environment, Anatomy and physiology, Depth of cut, Consultation with the customer, Patch test, About healing & fading, Contraindications, Pigment durability, Colour basis, Types of skin colours, Pigment composition, How to use pigments, How to modify pigments, How to measure eyebrows using classic rule, How to measure eyebrows using golden ratio compass, Digitally checking eyebrow symmetry, Aftercare, Skin problems, Healing process etc.
When you finish all the theory, you can do the final theory test. Wait with the practical part until you successfully complete the live course.
This course will take a lot of your time, but you have to have an understanding that microblading is art and you cannot learn it overnight. You must be aware that a lot of exercises on artificial skin will be required. It all depends on your talent and your will how much time you will take. Some students finish the course in one month, and some do not complete it. The entire microblading course is not easy.
This course in NON REFUNDABLE from the moment it is booked and paid to our organizer.
Assignments are designed to teach you everything gradually and you cannot find out for the final work, for the sake of the security of your customers, until you finish all the previous required lessons. Each assignment will need to be done and repeated until complete and dedicated teacher on the other side will decide when it is – of course, everything is corrected and commented. If the assigned assignment does not meet our standards, the teacher will NOT confirm it.
Image requirements:
You need to send in clear pictures, your work must be clearly seen to be analyzed correctly. all assignments must be completed in accordance with the given instructions and requirements. If your assignment does not meet the requirements, you will be asked to repeat it until perfect.
Online trainer:
A trainer will be assigned to you after your registration. Your online trainer is available for any tips, help or questions. All messages to your trainer are answered during work hours or in 48 hours.
By purchasing the course you have read and agree with the assignment requirements specified below. An agreement is also sent to you after registration and purchase that must be signed and sent back before your account is activated and before you start with the course.
ASSIGNMENT REQUIREMENTS:
After you complete all your assignments on paper and artificial skin, treatment video demonstrations will become available. The course may take months to complete if it is done as an additional activity combined with work or school. Due to safety reasons these videos are not provided or made available in advance.
Your works must be submitted after the lesion requires you to send it in. If all your assignments are not completed, you will not receive your certificate of completion of the chosen course.
The course is open and valid for 6 months after the live course. During these months you are required to send in your assignments and support from your trainer is available. Once the course expires it can be extended for additional cost.
Course Reviews
5 stars

0

4 stars

0

3 stars

0

2 stars

0

1 stars

0
No Reviews found for this course.