If you always wanted to turn your passion into a successful career, but are unable to attend one of our live trainings, our online courses are the perfect solution.
Elite Beauty Academy is one of the most experienced and world renown beauty academies. It's known for two famous brands - Elite Microblading and Dermoplasma.
For the last 5 years, our courses have been held all across the world and we have had over 4000 students.
Combining highly professional and experienced staff with cutting-edge technology and equipment ensures the best possible results. We follow and introduce the latest trends in the field of the beauty industry and so form a coherent team that delivers the best training available to our students.
With our experiences, we have identified where our students have had the most problems during and after our course. We have seen how some students do not advance in their skills after the course as fast as they should and because of that, we have decided to develop our own online platform to help our students with the problems and challenges they face.
Our online courses are designed in a way that helps our students' progress in their ability, knowledge and drawing skills. Students can be in constant contact with our trainers that help them achieve the best possible results in their work and maximum satisfaction from their customers.
We bring training into your living room or into your salon and enable constant support and guidance by our trainers.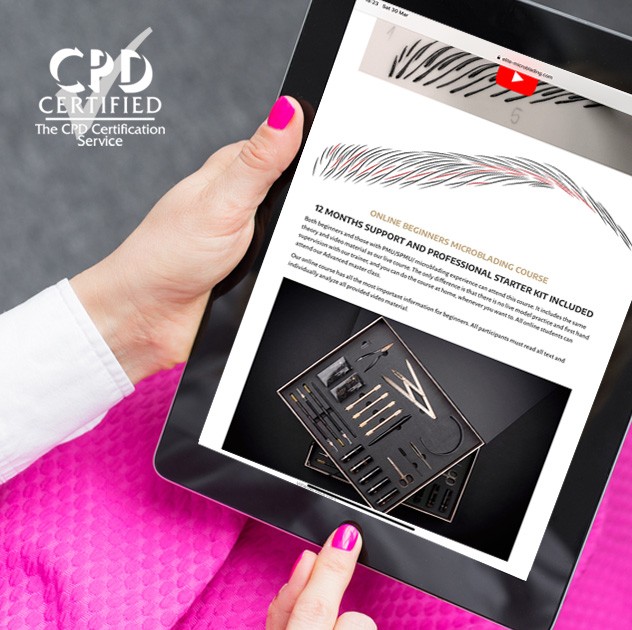 ONLINE TRAINER
Assigned to each students individually. Always available for questions and help – our students receive answers in 48 hours or less.
HIGH STANDARDS
Our trainers check each submitted assignment and provide feedback for our students. Only assignments that meet our requirements will be approved.
TRAIN ANYWHERE AND ANYTIME
Ideal for people who want to learn while working and having a family. The only requirement is a working internet connection.
Testimonials
I'd recommend Elite Beauty Academy in a heartbeat! I'm loving my new skills, and my clients love me...Read more

Microblading is an art and will take a while to master but the support from Elite is FABULOUS.......Read more

The Best courses I've ever done, both Microblading and Dermoplasma! Realization of a dream!

Absolutely loved my training on the Advanced Microblading course. So helpful and great hair...Read more

Fantastic!! Completed my Microblading and Dermoplasma training recently and really recommend Elite...Read more

I have done Microblading almost 3 years ago and have a very successful business with this procedure...Read more
Our online courses
Elite microblading online course is intended for all who wish to get started with their microblading career or to experienced microblading practitioners who wish to further their knowledge.
PRIVATE
Got any questions? Contact us, we're here to help!