WE ARE SO EXCITED TO BE EXTENDING OUR TRAINING TEAM
First of all, we would like to thank you for your interest in joining our training team. We are so grateful for the last five years to have trained many students all over the world. We are proud to offer the option to join our team and train new dermoplasma artists to our students and other dermoplasma artists trained by other academies.
JOIN THE TRAINING TEAM
As part of our Training team, you will be part of the Elite family and will enjoy a wealth of benefits and all the tools you need to be a successful Educator for the brand.
---
01 OPPORTUNITY

• We offer you the opportunity of organising dermoplasma courses on your own. You will be the one who will choose the date, the location, book students, and in this way make sure you will be your own boss.

02 MANAGEMENT

• We also offer you a quarterly diary management service that will provide you with students for your Dermoplasma Training Dates.
BEING PART OF THE TEAM
Your commitment and trust are greatly appreciated. As a member of the Elite team, you have access to the following perks:
PROMOTION
Promotion as a trainer on all our Social Media Platforms 79k Facebook 21k Instagram and Bio on our Website widening your audience and standing in the industry
PERSONALISED WATERMARK LOGO
All our trainers will have a unique Personalised WaterMark Logo that can be used on your own and training promotional pictures raising awareness to your own profile and business
CLOSED TRAINER GROUP
Be part of our Closed Trainer Group, where all trainers can share experiences and also troubleshoot to ensure you feel connected at all times to the Academy
ESTABLISH BRAND
Confident in the knowledge that we have invested in ensuring your future students have a complete training package that includes Online Support which is integral to the success of training in today's market
Branded T-shirt
Pull Up Banner
USB STICK
with brochures, banners, promo material, pictures, PP presentation, forms, T&C, Training Tools, personalised watermark...)
Instructors Manual
Extra Surprises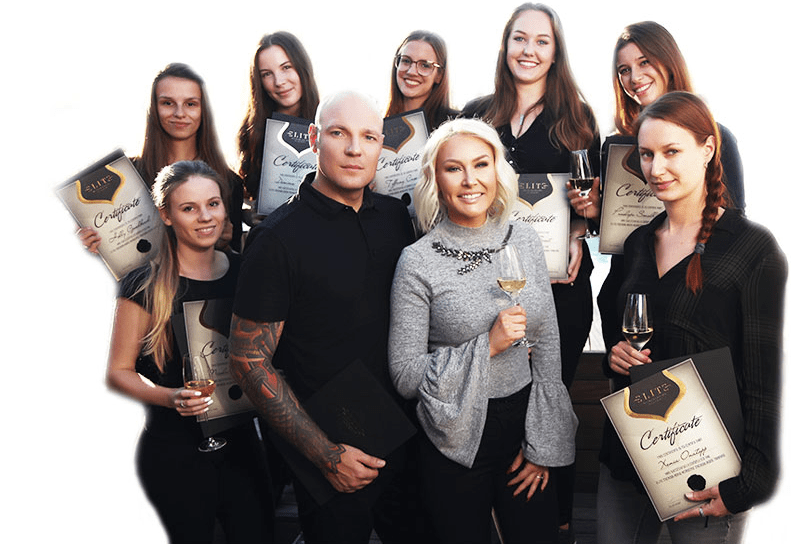 WHO ARE WE
---
Elite Beauty Academy is one of the most experienced and world-renowned beauty academies. It was founded by Bojan Joncic and Maja Lipovec, experts and Master educators in the field of plasma treatments and specialised artists in drawing eyebrows according to the microblading method providing training World-Wide. Our courses are held all across the world by master trainers, who are specialised to help our students learn how to provide microblading procedure easier and better. Combining highly professional and experienced staff with cutting-edge technology and equipment ensures the best possible results. We follow and introduce the latest trends in the field of the beauty industry, and so form a coherent team that delivers the best training available to our students.
---
BENEFITS
Being part of the Training Team and Elite Beauty Academy will bring you a possibility for massive income and also your personal growth.
---
ACCREDITATION
working under our accreditation
PERSONAL RECOMMENDATION
Registered as an official trainer on our website and social platforms
PERSONAL DEVELOPMENT
Being Part of a growing Global Brand that will offer you opportunities for your own Personal Development and gaining precedence that will increase your own business standing.
DISCOUNT
on your own Future Training
PRODUCTS & SERVICES
We will provide you with all materials, knowledge and support needed for providing the best and most successful dermoplasma courses to your students.
---
MANAGED TRAINING SUPPORT
The main objective is to fill your courses. We will offer you a quarterly diary management service that will provide you with Students for your Dermoplasma Training Dates. This will allow you to carry on with your day to day business and have your training dates covered with new students.
---
1 or 2 students:
The course can be held in one day (from 9:00 until around 18:00)
3,4,5 or 6 students:
Course needs to be carried out over two days (from 9:00 until around 17:00)
Price of the course:
---
(including VAT)
ADDITIONAL QUESTIONS OR PROGRAM SIGN-UP:
WE CAN'T WAIT TO SEE YOU AT THE EDUCATORS TRAINING COURSE AND FOR YOU TO JOIN OUR EXPANDING TEAM.
We allow a maximum of 6 students per trainer.
You can set your own dates for the courses which you will organise yourself, provided the price range is within our specification.
---